Supplier credit
Your company wants to further expand its business activities abroad or enter new markets while not taking any unpredictable risks. As your risk partner, we are at your side from the initial planning stage to the last payment. Well-protected by an export guarantee, you can grant your international client a longer credit period with a supplier credit and you are protected against cancellations, late payments, and non-payments right from the production phase. This increases your market opportunities and strengthens your customer relations.
Your situation
You are an Austrian company which produces capital goods or investments and negotiates a supply and service contract with an international client. You want to grant your contractual partner a supplier credit with a longer credit period and thus accept a longer-term non-payment risk.
You want to minimise this risk while covering your production phase.
Our service: We bear the risks during the entire duration of the project
Whether you work in the assets area, produce machines or provide services and receive your payments either right after delivery or service or have agreed upon a longer credit period, the G1 guarantee is the tailor-made basis for your export transaction. With this guarantee for deliveries and services, we take over most of your political and commercial risks – from the beginning of production to the repayment of the last receivable.
Supplier credit with safety
A supplier credit brings with it risks, especially in difficult markets: the economic situation is often difficult to assess, and the political situation can also change within the period agreed. Your contractual partner can become bankrupt or contracts might no longer be executable for political reasons.
With a G1 guarantee for deliveries and services you can protect yourself efficiently against such risks: political risks are covered up to 100%, commercial risks up to 95%.
You can find out which conditions of coverage apply to which countries here:
Predictable risk during production
Before starting with the delivery, risk management is already an important part of your project.
In particular with long production periods and when producing special products, a contract cancellation can represent a serious threat. Regardless of whether you are a small niche provider, are running an aspiring medium-sized company or are conducing export transaction in an internationally active group, the production risk should be a predictable factor and not restrict your liquidity.
You can find more information on financing during the production phase on this page:
This is how the G1 guarantee protects your export transaction
Alternatives to the supplier credit with combined guarantees
In order to remain competitive – without credit risks and liquidity restrictions – you can transfer your non-payment risk to your bank. This is why we also offer the G1 guarantee in combination with other guarantees in order to protect against non-payment risks. The benefit of our combined product: You are seamlessly covered with only one policy, save administrative costs and increase your liquidity.
Tied financial credits with G1G3
If your project is financed with a buyer credit for your foreign client or their bank, the combined product G1G3 protects optimally against commercial and political risks. This way, your production risk as well as your bank's non-payment risk are also protected and you can benefit from continuous financing.
You can find more information on the guarantee for tied financial credits and letter of credit confirmations (G3) on these pages:
Your bank's purchase of account receivables with G1G9
If your bank purchases your accounts receivable from your foreign client, it can conclude a guarantee for the acquisition of accounts receivable (G9). The combined product G1G9 covers both your production risk as well as your bank's non-payment risk and also grants you continuous financing during the entire contract term.
You can find more information on the guarantee for the acquisition of accounts receivable (G9) on this page:
Flexible even with indirect deliveries and services
You are, for example, a sub-contractor for a German general contractor taking part in a project in Russia and have concluded your export contract with them. Payment is carried out through the general contractor but only after the Russian customer has paid ("If and when" agreement). You are now confronted with a risk from Russia, but cannot influence it as you have no direct payment claim.
In this case, we can take over the commercial and political risks from the end customer country with a G2 guarantee.
Fact Sheet indirect deliveries and services
Protecting purchases in Austria
You are a foreign export company and buy products in Austria that you sell to third countries, either with a margin or together with your own deliveries and services, and now bear the non-payment risk for the entire order. The G2 guarantee is also perfect in that case.
Your benefits:
Seamless
The G1 guarantee protects your project seamlessly, from the start to the end – alone or as a combined product.
Secure
We offer high cover ratios, even for difficult markets, and make your expansion easier.
Tried and tested
You can count on our experience with export risks: We are happy to advise you comprehensively.
The costs
Processing fee
0,1 of the sum insured
(minimum 10 euros, maximum 720 euros)
Premium

The premiums are dependent on the political risk in the target country, the creditworthiness of the foreign contractual partner or their guarantor and the term.

Terms
Repayment period under 2 years
Please contact our Service Centre.
Repayment period under 2 years
Premium calculator
Interest rates for individual financing
We offer very attractive financing instruments through domestic and foreign commercial banks based on your protection. The interest rates depend on the financing requirements.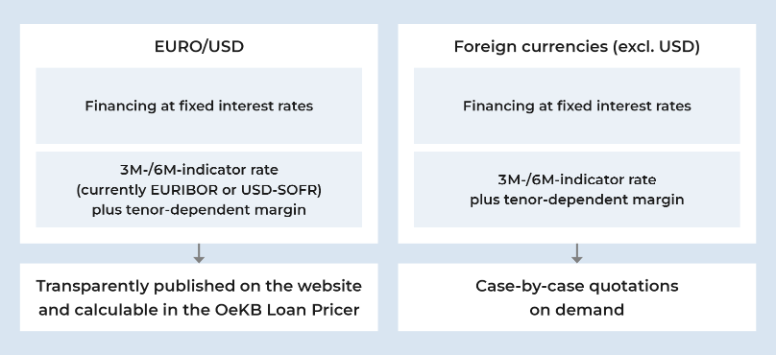 You can find an overview of current interest rates here:
The applicable interest rate is based on the planned duration and structure of the credit disbursements and repayments and can be calculated simply using the interest calculator.
How to protect supplier credits
You/your bank submit(s) an application – ideally through our Online services or in writing by mail or e-mail.
We check your application and submit it to the advisory board.
After positive appraisal by the advisory board, the Republic of Austria assumes liability and you/your bank receive(s) your export guarantee.
Benefit from our attractive financing conditions.
Your partner in all phases of your project
With the export guarantee, you can carry out your export transactions well-protected. We are your reliable partner for covering and financing right from the early project phases. Contact us early so that we can stand by you right from the preparatory phase:
Cost estimate for your calculation

Priority notice as a letter of intent

Preliminary commitment

Guarantee when concluding the contract
Show more
Cost estimate
You will benefit from talking to us during planning. We can support you with a solid cost estimate for covering so that you can include insurance costs from the very beginning.
Priority notice
During the bidding phase, we can strengthen your position with a priority notice. With a letter of intent (LOI), we confirm that we can in principle guarantee your project.
Preliminary commitment
As soon as you start negotiating with your business partner and the bank, we can issue you a preliminary commitment. A preliminary commitment has already been approved by the advisory board. This only costs a minimal processing fee.
Export Guarantee
Once the contract is concluded, if the risk exposure remains unchanged, you can quickly transform a preliminary commitment into an effective guarantee without having to wait for the advisory board's evaluation. In any case, it is important that you contact us before the risk arises.
As an exporter, you can apply for your guarantee for deliveries and services directly from us.
If you do not wish to make the application using our online export service, please download the application form, fill it in and send it to the Export Services Service Centre by post or by e-mail. Please also take note of our Terms & Conditions.
Application form for the G1 guarantee for direct deliveries and services
Application form for the G2 guarantee
If you are a new customer, we ask you to acknowledge the terms and conditions once and to fill out the SEPA direct debit mandate form.
Our Service Centre is happy to advise you as to which forms you need in addition.
Conveniently apply for export guarantees online
Using the login portal, you can apply for and manage export guarantees online. If you already have access to the login portal, you can simply apply for the online export guarantees service. Should you not yet have access, please use the second form
Any more questions?
If you require more detailed information or an individual consultation, please do not hesitate to contact us!
Client Advisory Export Services