This content is only available in German.
20.07.2023
Mitte Juni wurde die OeKB von TXF, einer Londoner Konferenz- und Trendanalyseagentur, mit dem Industry Choice Award 2023 ausgezeichnet. Bestnoten gabs für die Bereiche Kundenservice und Branchen-Know-how.
Die renommierte Londoner Konferenz- und Trendanalyseagentur Trade & Export Finance (TXF), zeichnet jedes Jahr die 'Perfect 10 Deals of the Year' im Zusammenhang mit Exportkrediten aus. Zusätzlich vergibt sie den 'Industry Choice Award', der auf Ergebnissen einer weltweiten Umfrage unter Importeuren, Exporteuren, Exportkreditagenturen (ECAs) und anderen Marktteilnehmern basiert. Die OeKB wurde heuer zur 'Top Performing ECA' gekürt. Abgefragt und bewertet wurden Schlüsselkriterien wie zum Beispiel Geschäftsverständnis, Risikoappetit, Produktpalette oder Kundenorientierung. Besonders gute Noten erhielt die OeKB für Kundenbetreuung und Branchen-Know-how.
Helmut Bernkopf, im Vorstand der OeKB für den Bereich Export Services zuständig, freut sich über die Auszeichnung:
Der Award ist ein Beleg für unsere hohe Produkt- und Servicequalität und die Anerkennung für die kontinuierliche Weiterentwicklung der breiten Palette an Instrumenten im Bereich der Exportförderung.

Ich bedanke mich bei unseren Kundinnen und Kunden für das entgegengebrachte Vertrauen, beim BMF und unseren Bankenpartnern für die hervorragende Zusammenarbeit und bei allen Mitarbeitenden, die durch ihr Engagement diese Auszeichnung möglich gemacht haben.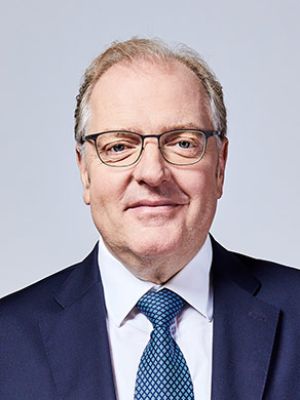 Laufende Verbesserung der österreichischen Exportförderung
Mit Exporthaftungen des Bundes und flexiblen Finanzierungslösungen unterstützt die OeKB die heimische Exportwirtschaft. Das stärkt den Standort und erhöht die internationale Wettbewerbsfähigkeit österreichischer Unternehmen. Um den Bedarf der österreichischen Exportwirtschaft zu treffen, justieren das Bundesministerium für Finanzen (BMF) und die OeKB das Exportförderungssystem immer wieder neu. Erst kürzlich wurden höhere Deckungsquoten und noch flexiblere Wertschöpfungsregeln für Exportgarantien eingeführt: Exportimpulse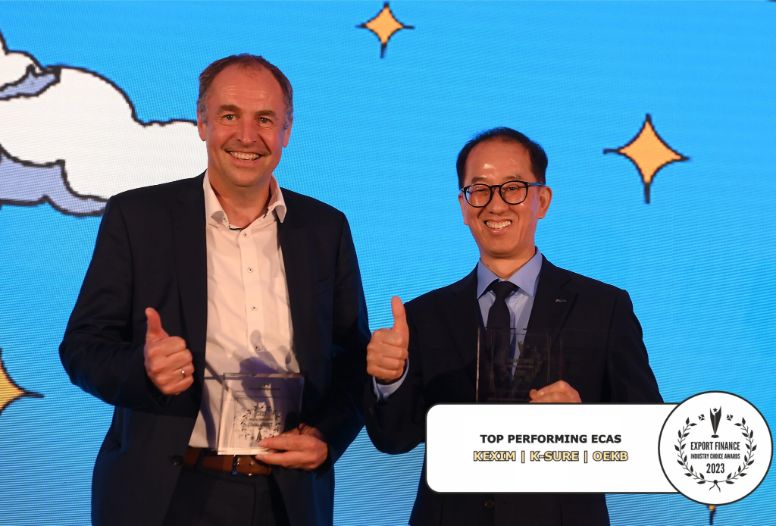 Erwin Marchhart vom Team der OeKB Kundenberatung Export Services, bei der Entgegennahme des Awards, gemeinsam mit dem Vertreter der ebenfalls ausgezeichneten KEXIM/K-SURE, zuständig für Exportfinanzierung und Exportkreditversicherung in Südkorea.