About OeKB Capital Market Services
As an independent institution, OeKB Capital Market Services offers central services for the Austrian capital market, and in doing so makes an important contribution to the success of our economy. Legally entrusted with a range of tasks, we develop infrastructural services that deliver greater efficiency for all market players.
Neutral mediator without its own business interests
We see ourselves as a objective mediator between the market players and do not pursue any of our own business interests. As a central service provider for the capital market, we see our role as beeing to strengthen Austria's competitiveness in a global environment. Our goal is to support the Austrian capital market and to strengthen Austria as an internationally renowned financial centre by offering economically relevant services.
Innovative infrastructure services for greater efficiency
OeKB Capital Market Services and the OeKB's subsidiaries, OeKB CSD and CCP.A render highly specialised services in all phases of a security's life-cycle. To some extent, we are mandated by the Republic of Austria, but we also develop infrastructural services for capital market players that are an attractive alternative to expensive in-house solutions. In this way, we increase efficiency and reduce costs for our customers.
Our key innovation drivers are our customers' requirements, our employees suggestions, as well as the increasing harmonisation of the European market for securities. In further developing our services, we work closely with the Vienna Stock Exchange and the players on the capital market, and coordinate our activities with the Federal Ministry of Finance (BMF), the Financial Markets Authority (FMA) and the Austrian Central Bank (OeNB).
OeKB in the entire life-cycle of a security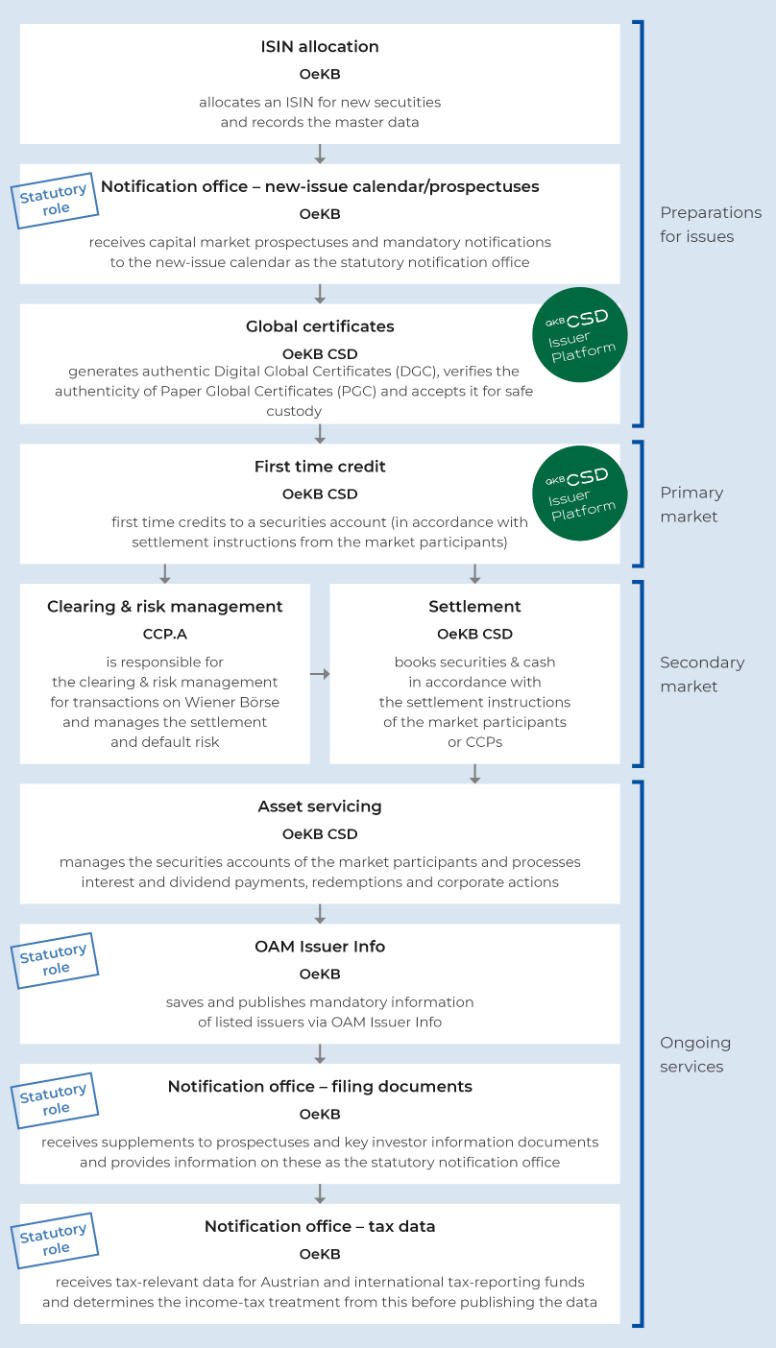 Cost-efficient exchange of data between market players
As the Notification Office under the Capital Markets Act, the OeKB is a neutral, independent institution in the Austrian capital market, which provides issuers and investment companies with central infrastructure that simplifies notification and information obligations and enables optional notifications to be made easily and for very little cost. In turn, the OeKB makes the collected data available to the market players to download.
Show more
Functions of the notification platforms constantly expanded
In addition to the mandatory notifications, issuers and investment companies can publish optional notifications via OeKB`s infrastructure and exchange data within a defined group of users. This reduces the cost and effort of implementing additional transmission methods and systems. OeKB is constantly adding to the functions of the notification platforms in order to adapt to changing market requirements.
Confidentiality and authenticity assured
The market-specific expertise of OeKB enables technologies to be developed in an efficient and user-orientated manner. In addition to simple operation and fast processing, transmission reliability counts when sending data. OeKB uses only proven encryption technologies, thereby guaranteeing the confidentiality and authenticity of the data.
Tasks of the Notification Office under the Capital Markets Act
Numerous tasks have been transferred to the Notification Office in the OeKB, which are summarised below.
We're proud of that
We contribute to the success of our economy with our services for the capital market.
Our innovations deliver benefits for all participants in the capital market and strengthen Austria's competitiveness.
We act in the capital market without our own business interests and act neutrally towards all market players.
Any more questions?
If you require more detailed information or an individual consultation, please do not hesitate to contact us.
Capital Market Services
OeKB Subsidiaries for securities administration and processing
You can find more information about our subsidiaries on their websites.
Contact us!
We will be happy to help you.