Contact Centre
There are many ways to reach us: by e-mail and post, phone and fax – and, naturally, in person at one of our two sites in Vienna's city centre. Use the links in the menu on the right for a quick and easy way to find all contacts at the Service Centre and departments of the OeKB.
Where to find us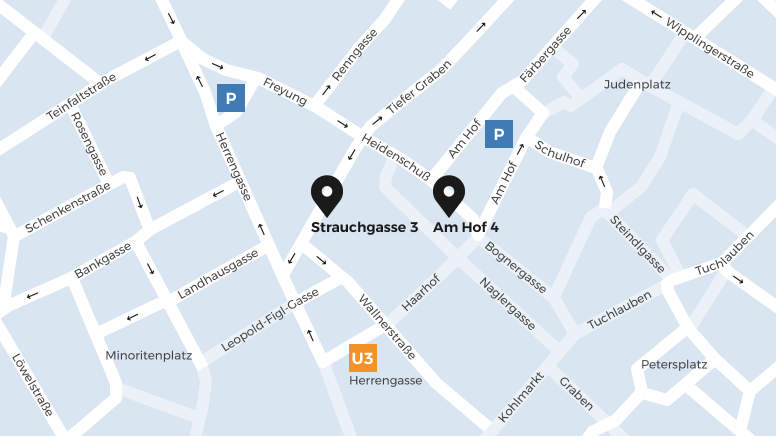 Am Hof 4
1010 Vienna
The premises at Am Hof 4 are used by the Management Board, the Management Board support office and the departments of Treasury and Marketing & Corporate Communication.
Strauchgasse 3
1010 Vienna
All other departments are located in the building on Strauchgasse.
How best to get to us
How to find us on public transport
U3 to Herrengasse Station, exit Herrengasse
To reach Strauchgasse, turn left after exiting the underground station into Wallnerstrasse and then turn right into Strauchgasse.
In order to reach OeKB's Am Hof building, exit the underground station and go straight ahead through the Haarhof, cross Naglergasse, continue into Irisgasse and turn left at "Am Hof" square.
U2 to Schottentor Station, exit Schottengasse
From Schottentor, cross Schottengasse and Freyung and continue until you can turn right into Strauchgasse at the end of Freyung. Or continue straight on until you arrive at the OeKB building on "Am Hof" on the right hand side. It takes about seven minutes on foot.
Alternatively, you can take bus line 1A from Schottentor (direction Stubentor) to Herrengasse station. The station is diagonally opposite to the entrance of the OeKB building on Strauchgasse. You can reach the Am Hof address by walking against the traffic as far as Freyung and then turning right towards "Am Hof".
Bus line 2A from Schwedenplatz (U1, U4)
Take bus line 2A (direction Schwarzenbergplatz) and get off at the Herrengasse stop. The entrance to the OeKB building on Strauchgasse is diagonally opposite. You can reach the Am Hof building by walking against the traffic as far as Freyung and then turning right towards "Am Hof".
Nearby car parks
The Am Hof car park is right opposite OeKB's Am Hof site. The Freyung underground car park (Wipark) is a short walk away from both sites.
Zugang für Menschen mit Behinderungen
Unsere beiden Standorte befinden sich in Gründerzeit-Gebäuden, wo Barrierefreiheit nur in kleinen Schritten und leider nicht flächendeckend umsetzbar ist. Jedoch ist unser Standort Strauchgasse komplett barrierefrei erreichbar. Dort befindet sich auch der Reitersaal, der für Veranstaltungen gebucht werden kann. Wir unternehmen große Anstrengungen, die Barrierefreiheit auch in weiteren Teilen unserer Häuser kontinuierlich zu verbessern.
Bei Fragen zur Barrierefreiheit in der OeKB können Sie sich gern an Eveline Balogh wenden:
Tel +43 1 531 27 2499, eveline.balogh@oekb.at.
Contact us
If you can't find the information you're looking for or need assistance, please do not hesitate to contact us.
Oesterreichische Kontrollbank Aktiengesellschaft
Am Hof 4 und Strauchgasse 3, 1011 Vienna, Austria