SWIFT Services
Process all banking communication for all international company locations centrally - with the secure Service Bureau of OeKB. Take advantage of our expertise for your company: in addition to providing a reliable connection, with our SWIFT services we also remove a number of other obstacles for you in international financial communication.
SWIFT lets you communicate securely – and easily
With SWIFT you save time, money and headaches. Instead of having to manage different logins, passwords and data formats when communicating with banks and other financial institutions, you can communicate quickly, easily and effortlessly with SWIFT.
Many people are familiar with the SWIFT code in their private lives as a requirement for making transfers to foreign bank accounts. For banks, financial service providers and companies, SWIFT is a secure means of communication that has become indispensable for legally valid payment transactions.
SWIFT stands for "Society for Worldwide Interbank Financial Telecommunication", and is a company founded in 1973 with a registered office in Belgium. SWIFT is owned by banks and has a co-operative organizational structure. The central banks of the USA, the Netherlands, Belgium, Germany, France, the UK, Italy, Japan, Canada and Sweden are represented on the supervisory board.
SWIFT also stands for the SWIFT network: a secure telecommunications network to which more than 10,000 banks in over 210 countries are connected and which enables the standardized, reliable exchange of communications across national borders.
SWIFT connection with the collective licence of OeKB
A professional SWIFT connection is essential. While a direct connection to the SWIFT network incurs infrastructure and IT costs, we are able to offer an extensive solution that lets you process your entire SWIFT communication via OeKB's system. You can use the collective licence of OeKB for the SWIFT software components for a significant reduction in your costs.
With a dedicated SWIFT address, your company preserves its autonomy to the outside world, while you save costs on specialized personnel, hardware operations, software updates and licences.
Rapid implementation, additional services
We do more than just take care of the licence and the necessary hardware and software. We also adapt our system to yours so that you don't have to make any changes to your IT infrastructure in order to be able to use SWIFT to the fullest.
If you are connected to SWIFT via OeKB, you won't have to worry about file formats either. We convert all non SWIFT-based files into SWIFT-legible formats.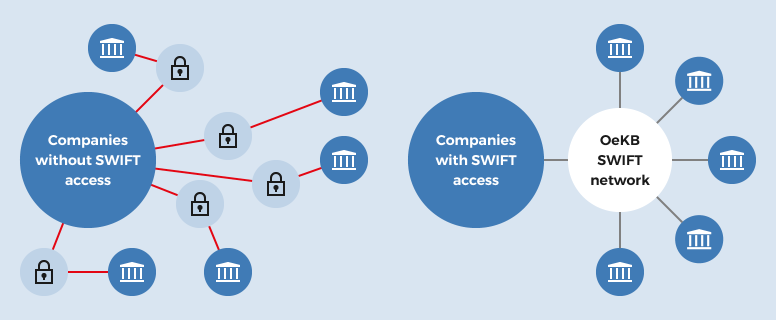 A SWIFT service that adapts to your needs
OeKB's SWIFT connection service offers you the greatest possible flexibility while remaining manageable. Depending on your company's needs, you can choose from two basic packages: SWIFT Connect or SWIFT Easy, which differ in terms of their range of services. We can expand both service packages with individual services so that you always get exactly what you really need.
SWIFT Connect: The basic level connection to the SWIFT network
SWIFT Connect assures you a simple and low-cost way to enter the world of SWIFT, even with a low message volume. Using a client for sending and receiving FIN messages, participants with a small message volume can enjoy the advantages of a SWIFT connection.
SWIFT Easy: The connection with all-round service
SWIFT Easy lets you transfer data from a wide range of applications to the SWIFT network in any format required. Data from non SWIFT-capable software are made SWIFT-compliant by OeKB. This saves you cost and effort because - in addition to the infrastructure and interface - we also take care of the conversion of proprietary data formats into SWIFT messages and vice versa.
The main benefits
You save on staff costs, hardware and software, and profit from optimum cash management through transparent bank connections.
Through our smart solutions, you also save on implementation and maintenance costs, and can communicate with SWIFT capability in all formats.
We are a sector-independent, reliable partner supplying you with professional expertise thanks to our key role in the capital market.
These customers place their trust in the SWIFT connection of OeKB
Many well-known companies rely on a SWIFT connection via OeKB for their SWIFT communications. Below you can find a selection of our customers.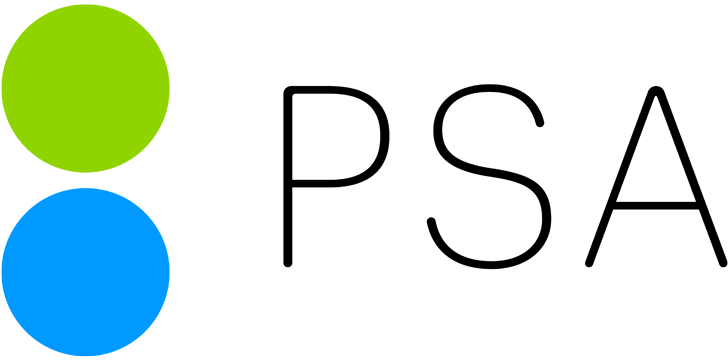 PSA is a transaction service provider and competence center for cashless payments in Austria. With its professional services, PSA offers banks in the German speaking countries the opportunity to conduct transactions safely, rapidly and conveniently.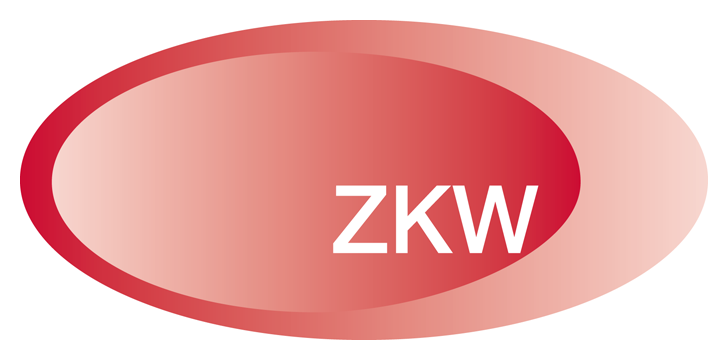 The ZKW Group is a specialist for innovative premium lighting systems and electronics. As a system supplier, the company is one of the world's leading strategic partners to the automotive industry for the development and production of high-quality lighting systems and electronics modules.

Zürcher Kantonalbank Österreich AG is a bank specializing in personal investment advisory services and professional wealth management, and has locations in Salzburg and Vienna. Zürcher Kantonalbank Österreich AG forms a central element of the international private banking strategy of Zürcher Kantonalbank (ZKB) and the first location of ZKB outside Switzerland.
Interested? Talk to us!
If you require further information or a bespoke offer, please do not hesitate to contact us.
SWIFT Service Bureau
Mon-Thu: 08:00 a.m. to 05:00 p.m.
Fri: 08:00 a.m. to 04:00 p.m.
SWIFT Service Packages
Find an overview our SWIFT service packages in our price model.