24.05.2018
Inform yourself at WKO events all over Austria about current topics and trends in the export sector. The OeKB Group is also on site – in Klagenfurt, Innsbruck, Graz and Vienna.
Austrian Export Day on 21st June 2018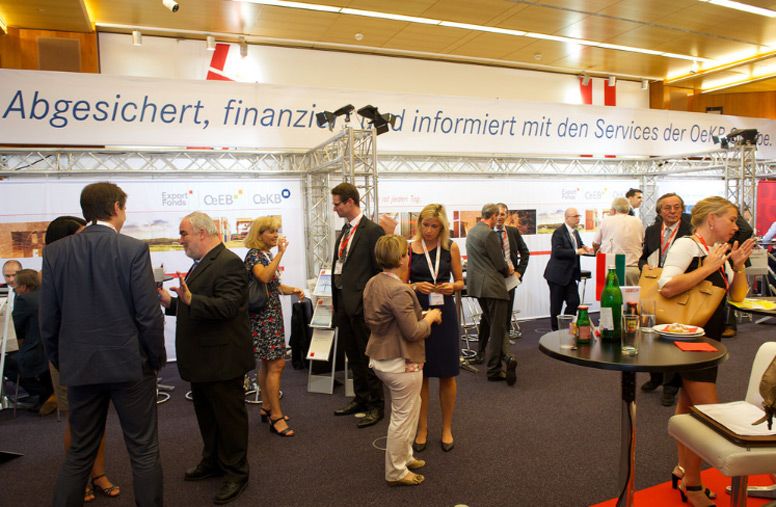 The Austrian Export Day on Thursday, 21 June offers companies the opportunity to engage in dialogue with 70 business delegates from all over the world and more than 30 export-oriented exhibitors.
AUSSENWIRTSCHAFT AUSTRIA is hosting its 16th edition of this event, which is dedicated to international relations. The export day takes place from 10:00 am to 5:00 pm in the Austrian Federal Economic Chamber, Wiedner Hauptstraße 63, 1045 Vienna.
The OeKB Group is on site with specialists and advises export companies of all sizes on the following topics:
How you can secure your foreign business
How you can finance your foreign business and domestic export-related investments
What support there is for economically viable projects in developing and emerging countries
We are looking forward to your visit.
The OeKB in your area
Our Export Services Client Advisory team is on the road throughout Austria. Among others, you can meet us at the following events:
Event
Location
Date

Consultation days with
business delegates from
America, South Asia, Far East
and Sub-Saharan Africa

WK Wien, Stubenring

Monday, June 4th and
Tuesday, June 5th
09:00 - 17:00

Carinthian export day

WK Carinthia, Klagenfurt

Wednesday, June 6th
10:00 - 17:00

Styrian export day

WK Styria, Graz

Thursday, June 7th
09:00 - 17:00

Tyrolean export day

WK Tyrol, Innsbruck

Monday, June 11th
09:00 - 16:00
Arrange your personal consultation
You will attend one of the export days and would like to meet the Export Services Consulting Team?