05.02.2019
Usbekistan. After the death of the long-term president, his successor "unleashes" the economy of the Central Asian republic, which is based on gold, natural gas and cotton.
A fresh breeze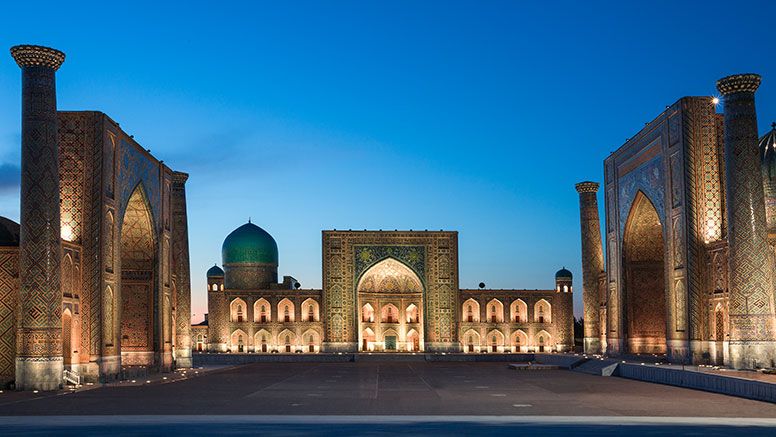 He will continue the policy of the deceased president, announced Schawkat Mirsijojew when he became the head of Uzbekistan at the end of 2016. His predecessor Islam Karimov, who came to power when the country was still a Soviet republic, had ruled it with a heavy hand and a great deal of distrust of foreign countries: centralized planned economy, suppression of political opponents, lack of freedom of expression, bad relations with neighboring states , strict trade restrictions and so on. The announcement of Mirsijojew, vested with extensive executive powers, did not bode well. "Analysts said he would continue Karimov's investor-unfriendly policy," said Gerald Mayer, country expert at OeKB. "But to the surprise of many observers Mirsijojew initiates a cautious opening of the country."
Change of course in the exchange rate
Sometimes it is not at all cautious, but quite progressive: a year ago Mirsijojew abruptly ended the restrictive foreign exchange policy, which was accompanied by an unrealistic official dollar exchange rate and heavy black market trade – a move that was internationally welcomed. With state visits Mirsijojew was able to improve the tense relations with neighboring countries Kyrgyzstan and Tajikistan within a few months. While not all disputes over borders and water management are settled, economic relations show an impressive upward trend.
This applies not only to business with these two countries, but also to the foreign trade of Uzbekistan as a whole: in the first quarter of 2018 exports were 59 percent more and imports 45 percent more than a year before. At the same time, some other goods are being exported, as Rudolf Thaler, the Austrian business delegate in Almaty, explains: "They diversify from crude oil, natural gas, gold and cotton, which were so far almost the only exports."
To the surprise of many observers Mirsijojew initiates a cautious opening of the country.
Time for pioneering achievements
In the future, Uzbekistan wants to refine its own resources before they are exported. "When new industries are built here, there are opportunities for our suppliers," says Thaler. "With its population of 32 million people, the country is interesting because of its size," explains the economic delegate, who manages several Central Asian countries from Kazakhstan. "Economically, Kazakhstan is still a more significant market than Uzbekistan, despite the smaller population. But the region will become very attractive – and the later you come, the higher the barriers to enter the market", says Thaler, inviting Austrian companies to pioneers. Uzbekistan is not a market for newcomers who have never exported, he warns: "But exporters should look at the development and seek effective and loyal partnerships in a timely manner – they are not so easy to find."
A liberal five-year plan should make the country a market economy by 2021, reports OeKB analyst Mayer. "Above all, trade barriers have to be reduced and foreign investors must be attracted." Thaler sees Uzbekistan on the right path: "In the last two years there has been a firework of reform that is also perceived as positive by the population. After a long absence, international financial institutions such as the EBRD and the World Bank are reactivating and carrying out projects." During a visit in November, he also observed a lively start-up scene in the capital Tashkent:" You can see Business Incubators, Funds from the Government, young entrepreneurs who have gained experience in Silicon Valley – there's drive inside. "
Current cover policy for Usbekistan

Top business opportunities

Coverage with restrictions
100 % coverage for political risks
OECD country category 5 (out of 7)

pharmaceuticals
healthcare
agribusiness
food processing
modernization of industries
environmental technology
mining and metallurgy
electricity and gas
chemical
textile and leather
Start from low level
The opening is progressing, and Uzbekistan's economy has recently risen more than 5 percent in real terms. But some voices warn against exaggerated euphoria. "Optimism is appropriate. But despite the state-controlled and controlled liberalization process, Uzbekistan is far from being comparable to a free-market economy," says Gerald Mayer. Especially in the restructuring of large, often dominant state-owned companies, there is still much catching up to do: "Many of them are only be kept alive by financial injections from the state." Free media are missing to date, internet access is still limited, and Uzbekistan is still far away from being a democratic right and justice system. In the Corruption Perceptions Index, the country is ranked 157 out of 180 – on par with Zimbabwe.
Optimism is appropriate. But despite the state-controlled and controlled liberalization process, Uzbekistan is far from being comparable to a free-market economy.
"You have to be prepared for the fact that many things are in flux," says Rudolf Thaler. "For example, the legal and taxation system and border management are constantly changing." There is still catching up to do in terms of infrastructure: "Energy production is currently dependent on water from Tajikistan. However, this year Mirsijojew has signed an agreement with Putin to build a $ 11 billion nuclear reactor. "The president is not only looking for a good relationship with Russia, but also with China, the EU and the US – he has also been visiting the White House, recently.
Mission shall boost trade
A visit to Mirsijojew in Austria is currently not planned, but an Austrian economic mission to Tashkent is, which will take place in April. Thaler hopes for a lively participation of Austrian companies – because trade relations are still rudimentary. The imports from Uzbekistan made up just 3 million euros in the previous year, with trade reaching 42 million euros from Austria to Uzbekistan. "This is not a huge sum and can fluctuate greatly due to individual orders," commented Rudolf Thaler. "We assume that there are currently around 40 Austrian companies with a branch office or a local representative office in Uzbekistan. But we are seeing increasing interest. "For Austrian companies, he sees pharmaceuticals, healthcare, agribusiness, food processing and the modernization of industries as interesting areas. OeKB expert Mayer sees further opportunities for Austrian investors and suppliers in the sectors of environmental technology, mining and metallurgy, electricity and gas as well as the chemical, textile and leather industries.
Travel easier
By the way, as an interested company you do not have to learn Uzbek for a visit to Tashkent, Thaler reveals: "In a taxi it can happen that you only speak Uzbek, in the country anyway. But in the city and at the company level, you can get along with English quite well." Whoever travels to Uzbekistan to visit, for example, the impressive World Heritage Sites in Samarkand and Bukhara, also feels something of the opening of the country: you don't have to hand in the passport to the embassy for a tourist visa but you can apply for it online.
WKO economic mission in April
Between the 7th and 12th of April 2019, the WKO is conducting an economic mission to Uzbekistan and Kazakhstan – an ideal opportunity for interested companies to prepare the ground for potential export business. Find more information under the following link:
Website of the WKO economic mission to Uzbekistan und Kazakhstan (only in German)
Uzbekistan in numbers*

32,1 million inhabitants
Human Development Index: rank 105 (out of 188)
Birth rate: 1,8 children / woman
Life expectancy: 74 years
GDP growth in 2017: 5,3%
GDP is absolutely 48,8 billion US $
GDP per capita: 1.520 US $
Inflation: 12,5%
Exports: 10,5 billion US $ (2017)
Imports: 12,3 billion US $ (2017)

+

-

+ boom
+ modernizations
+ customs union with Russia
+ large raw material reserves
+ hub for region

- problems in the banking sector
- dependent on raw material prices
- large domestic distances
- high nationalization of companies
- need to catch up with education
History in a nutshell: Hane, Russen, Karimov
More than 30,000 years ago, people settled in what is now Uzbekistan. 327 BC, Alexander the Great conquered the area. Even before the turn of the century, the Silk Road developed, too, which later gave the cities great importance. From the 8th century, most of today's Uzbek territory belonged to the Islamic world. From the 13th century the Mongols ruled, under which a scientific and cultural upswing began.
The actual Uzbeks, a Turkic people from Western Siberia led by Mongol Khans, came to power in the 16th century. In the 19th century, Russia and England fought for supremacy in Central Asia, in 1868, the Russian General Government of Turkestan, from which emerged in 1925, the Uzbek SSR. Since 1963, they had the present borders of Uzbekistan. Islom Karimov, first Party Secretary since 1989, led the country to independence in 1991 and became President of Uzbekistan until his death in 2016. Despite his undemocratic rule, he continues to enjoy a high reputation.
*source: WKO
Arrange a consultation
You are planning a project abroad? If you want more detailed information or an individual consultation, do not hesitate to contact us!
Client Advisory Export Services
More country information
You like to know whether foreign transactions or investments can be covered in your target country? Find answers here.