29.09.2020
For you, our customers and business partners, we are constantly working to optimise our services. Our digital interfaces to you are becoming increasingly important – and at the centre of which will be our new customer platform my.oekb, launching end of November 2020.
Focus on our customers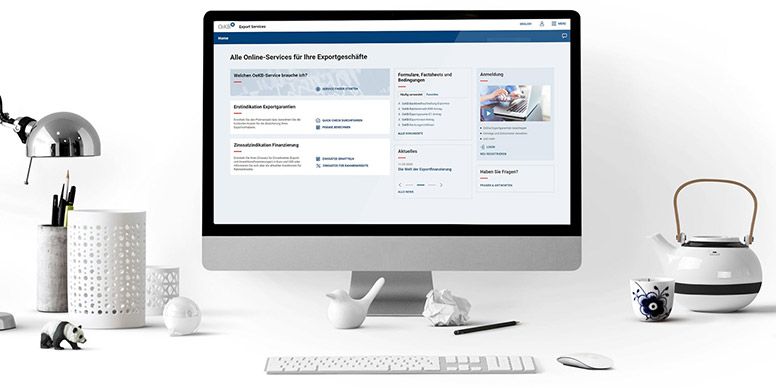 The launch of my.oekb represents a major step towards an even stronger focus of our digital channels on your needs and, at the same time, lays the foundation for their future expansion. From day one, we have incorporated our customers' feedback into the development of the platform - and we will continue to work with you in the future as we continue to expand the platform.
Launch: November 2020
From autumn 2020, all applications of our Export Services as well as selected applications of the Capital Market Services will be available to you on my.oekb. For other services – such as OeKB business accounts or SWIFT – the login portal will remain available for the time being. The platform will be gradually expanded to include many of the other services as well as completely new ones. An overview of the OeKB services and where they can be found from the end of November 2020 can be found here.
Central access, modern design
You will be able to use many online services with the new customer platform even without a login, while others can only be used after you have registered with your existing login data. Right from the start, my.oekb offers you the following advantages:
Central, uniform, digital access to your OeKB services
New, modern design frame
Own user profile
Your contact persons for the respective service at a glance
Dashboard with quick access to your most important applications and current news
FAQs about your services
First online services with optimised usability
Export Services
For export companies and their banks, my.oekb combines all known services for covering and financing in one place. It offers a constantly updated overview of your projects or contracts with us, an extended service finder and a convenient download zone with all the necessary documents. After logging in, a dashboard with access to your most important information and applications awaits you. With my.oekb you have an additional digital channel at hand – in addition to the proven personal cooperation.
Capital Market Services
The first service, which has been completely revised and integrated into the new customer platform, is the retrieval of fund tax data (previously "Profitweb"). The data is now presented much more transparent here. The existing services, such as those for ISIN allocation or WDBO Online, will initially only receive the new design framework from my.oekb.
Outlook: Gradual expansion and optimisation
In the long term, our aim with my.oekb is to further digitalise, standardise and ultimately redesign our applications. This will enable you, for example, to access our online services via mobile devices, search for information across all services and benefit from many other improvements. As the next step after the launch, we will optimise the login modalities to offer you a more modern, even more secure access to the platform.
Last but not least, it is our aim to integrate previously separate online services as far as possible seamlessly into your processes with us – in order to create more efficient, time-saving processes for you and to reduce paperwork to a minimum. Be curious.