16.04.2018
Peru: Business-friendly politics should soon make the Andean republic flourish as it once did before the arrival of the Europeans – despite erratic weather conditions and political turmoil.
Coast, mountains, jungle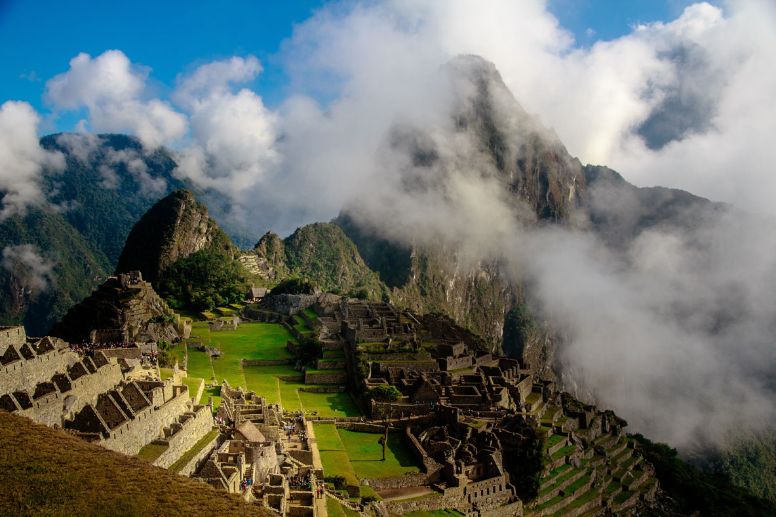 Peru is roughly divided into three regions: the coast, the Andes and the rainforest. The cultural cradle of Peru is located in the mountains, where the Incas once flourished with Cusco and where one can find many traces of pre-Columbian civilization. Despite the proximity of the equator there is a mild climate all year round. East of it are huge rainforests in which the Amazon has its origin. In the middle of the jungle, only reachable by air and boat, the city of Iquitos with half a million inhabitants was built – a center of the petroleum and timber industry.
The Spanish-influenced narrow coastal strip on the Pacific, where the capital Lima with almost ten million inhabitants is situated, is usually considered a very dry area. Fertile are only the valleys and estuaries of the rivers. But in March 2017, the weather phenomenon El Niño brought down heavy rains: Floods and mudslides claimed dozens of deaths and caused billions of dollars in damages.
Ex-Presidents in the sights of justice
Politics was almost simultaneously shaken by new revelations in the corruption affair surrounding the Brazilian Odebrecht construction company. "Peru was one of the main countries, where Odebrecht has been bribing vigorously," reports Wolfgang Köstinger, who, as an Austrian business delegate, looks after the market of Peru from Santiago de Chile. In the wake of the affair, numerous high-ranking politicians were arrested, including ex-President Humala in July 2017. His predecessor Alejandro Toledo is also involved in the bribery scandal and is being sought by international arrest warrant.
2016 Humala was succeeded by the liberal-conservative economist Pedro Pablo Kuczynski, who won in the last minute against Keiko Fujimori, the daughter of ex-president Alberto Fujimori (who is in the same prison as Humala because of human rights violations). However, Kuczynski's reform plans were significantly hampered by the fact that in Congress, Fujimori's party has a majority. This led to the distrust of the prime minister and Kuczynski having to set up a new cabinet, which was confirmed by Congress in October. In March 2018, there was another change of president: Pedro Pablo Kuczynski resigned after allegations of corruption in connection with the Brazilian construction group Odebrecht and thus came before a planned impeachment in parliament before. His successor is the former Vice President Martín Vizcarra.
With its relatively stable legal framework, Peru is a particularly friendly market for foreign investment in the region.
Construction projects in the queue
The Odebrecht scandal also brought numerous construction projects to a standstill, in which Odebrecht was involved. "The construction of a gas pipeline is temporarily stopped, the construction of the subway in Lima is delayed and plans for an international airport are on hold," reports Köstinger.
Soon, however, there will be building activities throughout the country, because Peru wants to invest heavily in its infrastructure – both in the transport, as well as in the water industry. "Lima is home to many people without access to water and electricity," says Wolfgang Köstinger. "The government's goal is that in a few years, 95 percent of the urban population is supplied with drinking water." Here he also scents opportunities for Austrian companies, as well as in wastewater treatment.
A high-level north-south road link is already under construction, a more than $ 10 billion railroad to Brazil is, however, still a vision: China wants to build this route to connect Brazil's Atlantic ports with the Peruvian Ilo on the Pacific. "I think the track will come sometime, but that's a project of a century," comments Köstinger. "Ilo Port actually does not exist yet."
Current cover policy for Peru

Top business opportunities

Coverage without restriction

100% coverage for political risks

OECD country category 3

Energy / hydropower
Medical
Environmental/Waste Management/Recycling
Infrastructure development
Mechanical engineering
Lots of metal, little taxes
Peru's economy is heavily dependent on raw materials: It is the second largest copper producer in the world, and is also in the lead with silver, zinc, tin, lead and molybdenum. "60 percent of the exports come from the mining industry," says Köstinger. Agricultural products such as coffee, avocados, mangoes and asparagus are the rest. "Peru is an extremely open economy," explains the business delegate. "Tariffs are traditionally low and trade agreements exist with all major export partners – China, the US, the EU and Brazil."
With solid annual growth rates of 3% on average in recent years, Peru is one of the more dynamic economies in Latin America. For the upcoming years, we expect a significant increase in copper production, so that economic output should continue to rise.
Foreign investors are welcomed with open hands, reports Köstinger – "even in key areas that other countries would protect." The tax rate is around half as high as in Austria. "However, there is a large informal sector that does not pay taxes," says Köstinger. Therefore, one must also view the official unemployment rate of only seven percent with caution. More resilient are the figures for economic growth: last year 4 percent, this year 2.5, "next year it should go up again more clearly."
Weaknesses of the location are widespread corruption, a tedious bureaucracy and the level of education. "There is no dual training system and universities are not among the best," explains Köstinger. "Anyone who founds a branch here must also take care of the training of the workers themselves." That is probably one of the reasons why no company from Austria has settled here with its own plant – nevertheless, several planning offices have branches here.
Much potential for exporters
Imports from Austria recently declined slightly, which Wolfgang Köstinger attributes to fluctuations in the project business, "I am very confident that Austria will increasingly export to Peru in the future and will also make use of major infrastructure projects." Exports of machinery are currently constant for plastic processing and chains for mining vehicles. In the last decade, the export volume rose from around 20 to almost 90 million euros. "I see opportunities especially in the areas of energy, environment and processing," says Köstinger. "Potential is still there, considering that Peru has over 30 million inhabitants."
Peru in numbers*

Did you know that, …

31.5 million inhabitants
Human Development Index: Rank 87 (out of 188)
Birth rate: 2.4 children / woman
Life expectancy: 74.8 years
GDP growth in 2017: 2.5%
GDP is absolutely $ 215 billion
GDP per capita: 6,200 US $
Inflation: 2.8%
Exports: $ 34.2 billion
Imports: $ 37.9 billion

... Peru once exported large quantities of guano (bird droppings) that was in demand as fertilizer?
... Francisco Pizarro subjugated the Inca - with superior weapons and a cruel ambush – with fewer than 200 men?
... the city of Iquitos on the Amazon has over 400,000 inhabitants, but can only be reached by water and air?
... Peru is the homeland of the potato with over 3,000 endemic potato varieties?
... the Incas did not know any letters, but a kind of "knot writing" made of knotted strings?
History in a nutshell: A millennia-old culture
Several thousand years ago, stepped pyramids and artificial irrigation systems were developed in Peru for the cultivation of corn, peanuts and pumpkins. Numerous (high) cultures characterized the early history of the country. The flourishing empire of the Inca spread across half of the continent in the 15th century – and was later conquered bloody by the Spaniards. Spain established a viceroyalty with the newly founded capital Lima. The natives were forced to mine silver and gold under often inhumane conditions. Its independence (1821) owes Peru primarily to an army of already independent neighbors Chile and Argentina. The defeat in the Saltpeter War (1879-1884) against Chile threw the country economically back. The 20th century brought booming copper mining, more rights for the indigenous people, but also many political conflicts that culminated in a military junta (1968-80) and an autocratic government of Alberto Fujimori (1990-2001).
*source: WKO, World Bank (figures for 2015-17)
Arrange a consultation
You are planning a project abroad? If you want more detailed information or an individual consultation, do not hesitate to contact us!
Client Advisory Export Services
More country information
You like to know whether foreign transactions or investments can be covered in your target country? Find answers here.