07.10.2019
Thailand. Led by its military, the kingdom succeeds in expanding its industry and infrastructure. However, this is not very apparent in the periphery.
Economy go!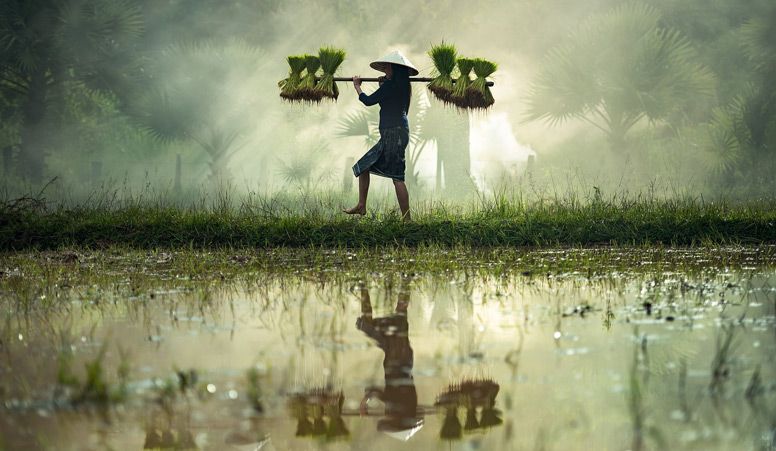 Many states do not make progress for decades because political upheavals or coups nip any development in the bud. Thailand does not seem to make much of a difference in such power struggles: although in recent decades the army has repeatedly seized power and numerous governments have come and gone, a solid economic development has been achieved which, in many respects, makes the kingdom better off than its neighbours.
This also includes the recent military rule, which took on democratic features only this year – the lower house was elected, the upper house is still determined by the military. Army chief General Prayut Chan-o-cha had put himself to the head of state in 2014. Since then, the military has governed with dictatorial powers. While it severely reduced the freedom of speech, the freedom of assembly and the freedom of the press, many observers attest the government an appealing economic policy. This might be one reason why the military-oriented PPRP party emerged as the strongest candidate from the parliamentary elections in spring 2019. Prayut subsequently forged a coalition and since then has been a democratically legitimized prime minister.
Reforms will continue
"Thailand has built up a remarkable industry over the decades," confirms Günther Sucher, Austrian Commercial Counsellor in Bangkok. From the political-economic point of view, Prayut's choice is "not that bad, because it guarantees, that reforms and investment projects that have already been started will be continued. The old and new finance minister is a technocrat in a positive sense – an economic expert and a personified reformer."
The macroeconomic indicators are impressive: recently 3.4 percent growth, about 1 percent inflation and hardly any unemployment. OeKB country expert Ines Baumann expects the solid economic growth to continue, "Also in the future between 3 and 4 percent will be possible – depending on the global environment. We are currently seeing an upswing due to more exports and tourism as well as increasing production, for example in the electronic sector."
Rice does not make rich
There is a large gap in development between the various parts of the country: greater Bangkok and the tourist areas are several steps ahead to the other regions, where agriculture often provides the only income. Many agricultural products are exported abroad: Thailand is one of the world's largest exporters of rice, natural rubber, pineapple, manioc and shrimps. But wealth grows where industry is – and this is particularly the case in the metropolitan region of Bangkok, where around 15 of Thailand's 69 million inhabitants live. "From Bangkok's centre, you drive one and a half hours in every direction through industrial zones," reports Günther Sucher.
With the Eastern Economic Corridor in the east of Bangkok a centre for high-tech industry is to be created.
Industry supposed to become high-tech
Among the products beeing produced are cars, steel, textiles, electrical appliances and components such as data storage devices, air conditioning systems and video equipment. Agricultural products, such as natural rubber, are also processed into various rubber products. Thailand thus achieves a slightly positive trade balance. Thanks to tourism and foreign investment, the current account balance shows significantly higher profit.
A remarkable feature for Sucher is the car industry, which is dominated by Japanese brands, "A lot is already being assembled, but in contrast to neighbours like Vietnam, there is also a well-established local supplier industry. Recently there has been a strong focus on electric cars, even battery production has become a big topic." This fits very well into the government's plan to attract higher-value industries such as robotics, biotechnology and aviation. "With the Eastern Economic Corridor in the east of Bangkok a centre for high-tech industry is to be created."
Did you know that ...
... rice and shrimp are among the most important agricultural exports?
... cars have become one of the most important industrial products?
... did you know that tourism amounts to more than 20% of GDP? As much as in hardly any other country.
Tip: Authentic Thai cuisine
The Thai Ministry of Commerce awards the certificate "Thai Select" to restaurants all over the world that offer authentic Thai dishes on their menus. In Austria, ten restaurants currently bear the "Thai Select" seal, nine of them in Vienna and one in Feldkirch.
Lots of commitment from Austria
Thailand is an interesting destination not only for Austrian exports, but also as a production location. "There is a lot of investment in infrastructure and the tax and legal system is generally investor-friendly," says Baumann from OeKB. "We see Thailand as a solid and attractive investment location in Asia, with the potential to develop into the high-tech hub of the ASEAN zone."
Therefore, more than twenty Austrian companies have already established production locations in Thailand: for example, Swarovski produces jewellery in several factories with around 10,000 employees, voestalpine VAE produces switch parts, Greiner Bio One blood collection systems, MAM baby products, Alpla plastic packaging, Teufelberger ropes for the sailing industry and Anita special women's underwear. Soon, the biggest commitment will be a factory for Myocell textile fibers, which Lenzing is planning to build for 400 million euros starting in autumn.
This even exceeds the value of Austrian exports to Thailand, which are relatively stable at 270 to 280 million euros. "This year we see a big plus here," reports Sucher, "but this reflects a single major order from Siemens for subway carriages. However, I am expecting a positive development over the next few years. There are, for example, good perspectives for special machines and infrastructure supplies."
Brief report from Lenzing on doing business in Thailand
Don't see Thailand as an extended workbench
Heiko Arnold, CTO of Lenzing, reports on the experiences around the construction of the world's largest lyocell fiber plant, which is being built in Thailand.
What makes Thailand attractive as a location for production?
It was clear to us that we are building in Asia because we have most of our customers there. Among other things, Thailand offers better protection of intellectual property than China, less risk of natural disasters than Indonesia, and a clear, transparent licensing system. The automotive industry has shown that production facilities with high technical complexity are working successfully in Thailand.
Is it hard to find qualified staff?
You just have to start looking in time. The well-trained engineers are not waiting for you. For example, we have been going to technical schools for two years and find a very good base of young, motivated workers.
Which cultural peculiarities should be considered?
You should not see Thailand as an extended workbench. The Thais are a proud people, you have to respect their culture. For example, when inaugurate an office, it is important to invite the monks of the local temple. The key is to have some local managers who also have experience with western companies and create a cultural bridge. Do not be fooled that the Thais are very polite – they make it hard to see when you have not met their expectations.
We see Thailand as a solid and attractive investment location in Asia, with the potential to develop into the high-tech hub of the ASEAN zone.
Setting the course for new rails
The government is investing, amongst others, in a high-speed train linking the three major airports around Bangkok. The large port to the southeast of Bangkok is being expanded and highways are being built. Railways from China to Singapore and from Vietnam to Myanmar will soon run through Thailand – the section heading to China is already under construction. Alternative energies have hardly been used so far, however the plans are very ambitious, says Sucher, "Especially for photovoltaics - there are also subsidies for this in the private sector."
However, the economy is slightly being held back by deficits in the education system. "That there is no professional education system like ours is not unusual in the region. A particular issue is the poor knowledge of foreign languages. Even graduates of Universities of Applied Sciences and universities often don't speak English well, although Thailand is a major tourist destination." Even in business meetings with international companies, it is advisable to bring someone who speaks Thai.
Current cover policy for Thailand

Top business opportunities

Coverage without restrictions
100 % coverage for political risks
OECD country category 3 out of 7

Infrastructure
High-Tech industry

Automotive industry

Education
It's worth to ask
In addition, the Buddhist culture creates challenges for European business people, as Sucher knows from experience, "You don't say no, that's why it's often difficult to find out what your counterpart actually means. Loss of face is a big issue, nobody admits that something has not been understood or cannot be done. If the taxi driver smiles friendly and drives off, this does not mean that he has understood the address. My advice is always asking again carefully and friendly."
Thailand in numbers*
Population: 69.3 million
Human Development Index: Rank 83 (out of 188)
Birth rate: 1,52 children / woman
Life expectancy: 75.1 years
GDP growth 2019: 3.8%
GDP is absolutely: 522.8 billion US $
GDP per capita: 7,500 US $
Inflation: 0.92%
Exports: 266.1 billion US $
Imports: 233.8 billion US $
History in a nutshell: Never colony
Unlike its neighboring countries, Thailand only came under foreign rule for a short time when it was conquered by Japan in World War II. As a buffer between English and French colonies, the Kingdom of Siam (Thailand's name until 1939) maintained its independence, although there were certain concessions to the Europeans. Where the Thai originally come from is unclear – China, Vietnam and today's Thailand come into question. Until the 19th century there were no fixed borders in the region, but overlapping spheres of influence. By the turn of the century, empires of Mon peoples appeared (today a minority in Burma); in the 9th to 12th centuries, large parts of today's national territory were dominated by Khmer from Angkor. In the 13th century the first Thai states emerged, and Sukothai almost reached its present size. Later, the centre of power moved to Ayutthaya (missions were even sent to Europe) and towards the end of the 18th century to Bangkok. In 1932 the kingdom became a constitutional monarchy. After World War II the military ruled more often than democratically elected representatives. A new constitution came into force in 2017.
*source: WKO, CIA World Factbook
Arrange a consultation
You are planning a project abroad? If you want more detailed information or an individual consultation, do not hesitate to contact us!
Client Advisory Export Services
More country information
You like to know whether foreign transactions or investments can be covered in your target country? Find answers here.