09.07.2019
OeKB has commissioned the market research institute GfK with a study on "Exporting Companies in Austria - Current Challenges for Austrian Companies". Here are the results.
Domestic investment as a major pillar of the export business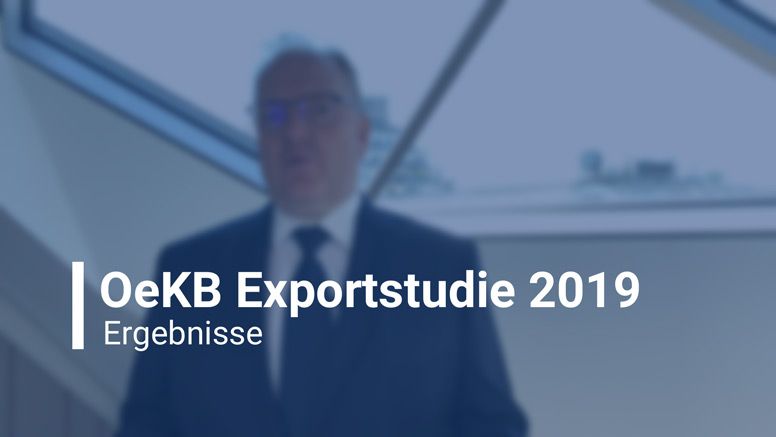 Experts were surveyed in the following subject areas:
Foreign activities of Austrian companies
Export prospects
Competitive situation in different markets
Satisfaction with the framework conditions for foreign activities
Sustainable Finance
For about half of Austria's major companies, export activities are the most important sales driver. More than two-thirds of them are planning a significant expansion of their export business. The issues of climate / environmental protection and sustainability as well as the availability of attractive financing options in order to make climate-friendly investments are seen as a particular challenge in the coming years. These are the core results of a recent survey* by the market research company GfK on behalf of OeKB.
Survey results in detail
In around 51% of large companies, exports account for more than 75% of total sales.
The main destination of Austrian exporters are 96% European countries (including Russia), followed by Asia (37%), America (29%) and Africa (14%).
40% of the respondents are satisfied with the conditions for export in Austria.
68% plan to expand or 44% plan to expand their foreign activities.
Future markets are seen to be around 50% in Europe, around 22% in Asia (China in particular 15%) and 13% in North America.
"Exportinvest" in response to demand for domestic investment
Substantial support for the export business results for many companies from the investments made in Austria. For example, 49% of respondents believe that domestic investment also benefits the export business. With the "Exportinvest" financing created in cooperation with the Federal Ministry of Finance, OeKB offers a particularly attractive solution that has developed into a highly demanded product. Exportinvest also enables Austrian exporters to benefit from OeKB's favorable refinancing funds for domestic projects.
In 2018, Exportinvest financed 106 projects worth more than 800 million Euros. This shows that we have our finger on the pulse of the time and meet the needs of domestic export companies optimally.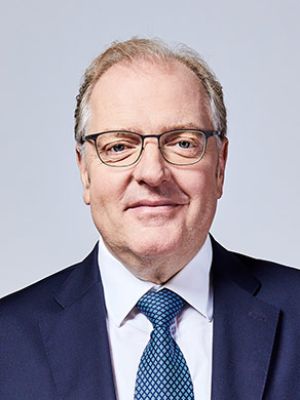 Challenges: bureaucracy, lack of staff and sanctions
As current challenges in the export business are called
strong competition (34%)
bureaucratic hurdles (24%)
missing staff (23%)
political framework / sanctions (22%)
The general conditions for foreign investments of companies are evaluated slightly better overall. But the wide spectrum of challenges becomes clear here as well. Just as in the export business, it ranges from strong competition (25 %) to staff shortage (23 %), bureaucratic hurdles (18 %) and a lack of qualifications (14 %).
Future topic No. 1: Climate and environmental protection
Special topics include climate and environmental protection as well as sustainability. Every fourth company surveyed faces great challenges in this context. 64% of respondents are convinced that sustainability will affect future business investment and play a major role.
Depending on the size of the company, between 35 and 55% of companies are currently planning investments financed with debt capital over the next three years. In 80% of the cases, sustainability is the focus. Around 40% of the decision-makers are convinced that the promotion of domestic climate investments also benefits the export business and strengthens the position of Austrian companies in foreign markets. Every second company is therefore demanding attractive financing options in order to make climate-friendly investments.
The answer of OeKB: "Exportinvest Green"
On behalf of OeKB, domestic exporters have access to innovative financing options for climate-friendly investments since 1 June 2019. Anyone who, as an Austrian export company, consciously makes investments that relieve the burden on the environment and make a sustainable contribution to improving the environment, benefits from this. With "Exportinvest Green" companies with an export quota of at least 20% and an investment of more than two million euros have the opportunity of additional 20% of the investment and thus to easier cover up to 100% of their Exportinvest financing sum with the attractive OeKB conditions.
The study results clearly show that export offers enormously important growth opportunities for the Austrian economy. Many companies could not survive without export.
* In total, decision-makers from 120 companies were interviewed by telephone between 9.4.2019 and 29.4.2019. The sample is divided into 20 companies with up to 49 employees, 60 companies with 50-249 employees and 40 companies with 250 or more employees.
Further information can be found in the study results:
Any questions?
If you want more detailed information or an individual consultation, do not hesitate to contact us!
Client Advisory Export Services