Financing foreign investments
Austrian companies that invest in foreign firms or that want to provide a foreign company with a loan similar to an investment can obtain attractive financing through OeKB.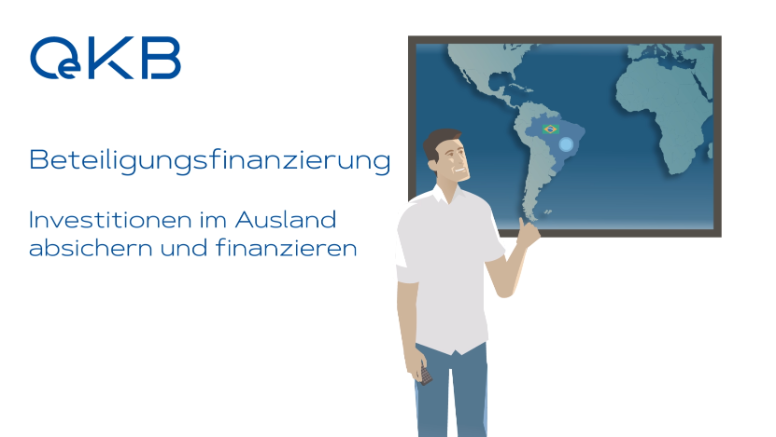 Learn in our short video how we can help you with financing und covering risks of foreign investments within your investment activities (only in German).
Your situation
Anyone planning to invest in a foreign subsidiary needs their bank to commit to finance quickly and requires attractive conditions. Your bank can provide you with credit on attractive terms if they have part of the credit risk taken over for them and attractive refinancing made available to them.
The basis for this is, in most cases, a guarantee by aval for investments, but a G4 participation guarantee can also be refinanced via OeKB.
Refinancing for you or your foreign subsidiary
With these guarantees, the Republic of Austria assumes part of the risk that your bank would otherwise have to bear. This makes it easier for your bank to provide a credit or loan commitment for your foreign investment.
When financing foreign investments, your bank has two approaches: it can grant you, as an Austrian investor, credit or a loan for the participation in a foreign subsidiary. Alternatively, your bank can assign the credit or the loan directly to your foreign subsidiary.
Moreover, you can also combine the guarantee by aval with a G4 participation guarantee, which covers the political risk of the foreign investment.
Your benefits:
As the federal government assumes the risk, the credit costs are lower.
You have access to foreign investment financing in almost all countries.
You pursue your investment objective. Your bank takes care of the rest.
The costs
| | |
| --- | --- |
| Aval fee | 0.2% bis 0.5% p.a. |
| a one-off processing fee | 0.1% of the amount requested to be granted (minimum 10 euros, maximum 720 euros) |
| Interest rate | according to INTEREST RATE OVERVIEW |
In addition to OeKB's costs, your bank may charge you additional costs. OeKB has no influence over your bank's costs.
Interest rates for individual financing
We offer highly attractive financing instruments, the terms of which are based on your coverage, both through domestic and foreign commercial banks. The interest rate depends on the financing requirements.
Interest rates for individual financing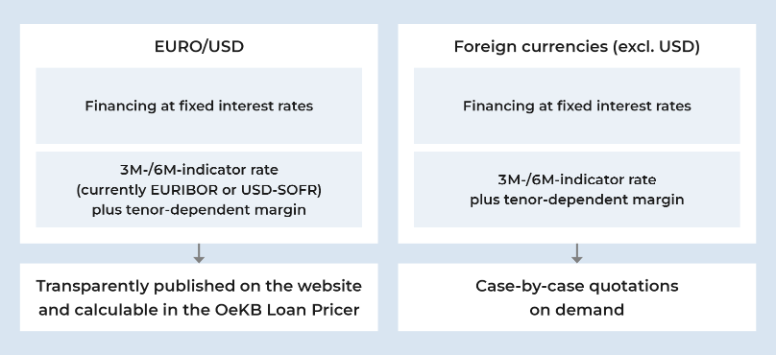 Here you can find an overview of the current interest rates.
The interest rate is based on the planned duration and structure of the credit disbursements and repayments, and can be calculated simply using the OeKB Loan Pricer on my.oekb.
Your path to covering your foreign investments
You provide us with the key data on your investment plans and, together with your bank, make an application.
We check your application and forward it to the federal government for approval.
The federal government makes a decision on the assumption of liability.
We make your bank a refinancing offer.
As soon as your bank has accepted the offer, the agreed sum is paid out to them.
Any more questions?
If you require more detailed information or an individual consultation, please do not hesitate to contact us.
Client Advisory Export Services
Your bank as a partner
Ask your bank about participation financing!
Contact us!
Client Advisory Export Services