Snack & Back GmbH
This content is only available in German.
Rund 120 Millionen Müsli- und Cerealien-Riegel für die nationale und internationale Markenartikelindustrie verlassen den Produktionsstandort der Snack & Back GmbH in Feldbach jährlich. Den Ausbau der Produktionsgebäude zur Steigerung der Produktionskapazitäten finanzierte das steirische Unternehmen, das eine Exportquote von fast 100 % aufweist, unter anderem mit einer Exportinvest der OeKB.
Müsliriegel für die ganze Welt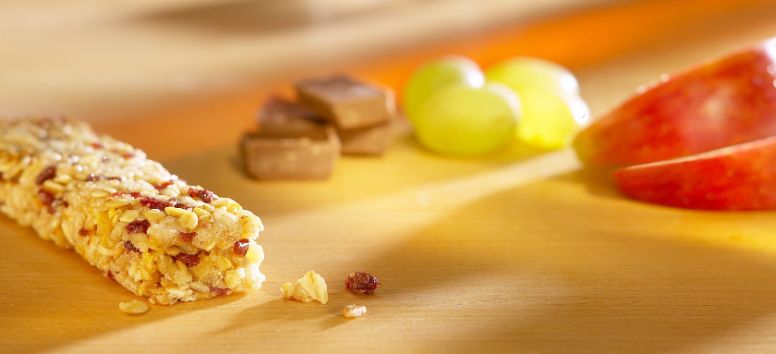 Klassisch oder verfeinert mit Frucht, überzogen mit Schokolade oder diversen Joghurt- und Milchcremen, verpackt in Folie oder Faltschachteln – die Müsliriegel von Snack & Back gibt es in den unterschiedlichsten Sorten und Verpackungen. Ungefähr 3000 Tonnen Müsliriegel produziert Snack & Back, ein Tochterunternehmen der Feldbacher Fruit Partners GmbH, jährlich. Der überwiegende Teil der Riegel, konkret 99 %, wird exportiert. Zu den Kunden des Müsliriegel-Produzenten zählen Markenartikler und Handelsmarken in ganz Europa, aber auch in Singapur oder Israel. Nach einem coronabedingten Umsatzrückgang will das Unternehmen jetzt wieder wachsen und erweitert dazu seine Gebäude und die Automatisierung der Verpackungen.
Investitionen für einen attraktiven Arbeitsplatz...
Am Standort in Feldbach investiert Snack & Back insgesamt knapp 15 Mio. Euro für den Ausbau der Produktions- und Lagerkapazitäten. Das Unternehmen möchte damit nicht nur den Standort langfristig absichern und in die Region investieren, sondern gleichzeitig auch ein attraktives Arbeitsumfeld schaffen.
Wir suchen immer neue Herausforderungen und entwickeln laufend neuartige Müsli- & Sportriegel. Dementsprechend benötigen wir viele Mitarbeiterinnen und Mitarbeiter mit spezieller fachlicher Kompetenz. All diesen Menschen wollen wir auch in Zukunft ein top Arbeitsumfeld mit modernster Ausstattung und interessanten Entwicklungsmöglichkeiten bieten und investieren deshalb schon heute in die Zukunft.
... und in einen klimafreundlichen Produktionsstandort
Auch der Faktor Umweltschutz spielte bei den aktuellen Investitionen eine zentrale Rolle. Bei der Erweiterung wurde darauf geachtet, dass die Investition einen Beitrag zum Klimaschutz leistet. Darüber hinaus wird der Fuhrpark auf Elektro-Mobilität gestellt. Das mittelfristige Ziel ist eine 100 %ige Klimaneutralität.
Mit Fertigstellung des Neubaus wird 80 Prozent der Energie aus erneuerbaren Quellen gewonnen, d. h. zu 80 Prozent CO2-neutral produziert. Damit können wir ca. 150 Tonnen CO2 pro Jahr einsparen.
The taste of quality
Das Unternehmen Snack & Back CP GmbH mit Sitz in Feldbach, Steiermark wurde im Jahr 2002 gegründet. Es steht zu 100 % im Eigentum der Feldbacher Fruit Partners GmbH, den Erfindern und Produzenten des beliebten "SteirerKren - Das Original", und beschäftigt rund 60 Personen. Das Unternehmen erweiterte im aktuellen Projekt die Gebäude und modernisierte die Produktion. Beispielsweise wurden alte Verpackungsmaschinen mit einem hohen manuellen Anteil beim Verpackungsvorgang erneuert. Die Investition in die Verpackungsautomation führt nicht nur zu mehr Effizienz, sondern auch zu einer Verbesserung der Hygiene- und Arbeitsplatzverhältnisse.
Ein Teil der Investitionssumme wurde über eine Exportinvest der OeKB finanziert. Das Unternehmen kann nun auf insgesamt 4.000 Quadratmetern ihre Müsli- und Cerealien-Riegeln für die ganze Welt in einem Top-Umfeld und mit modernster Ausstattung herstellen.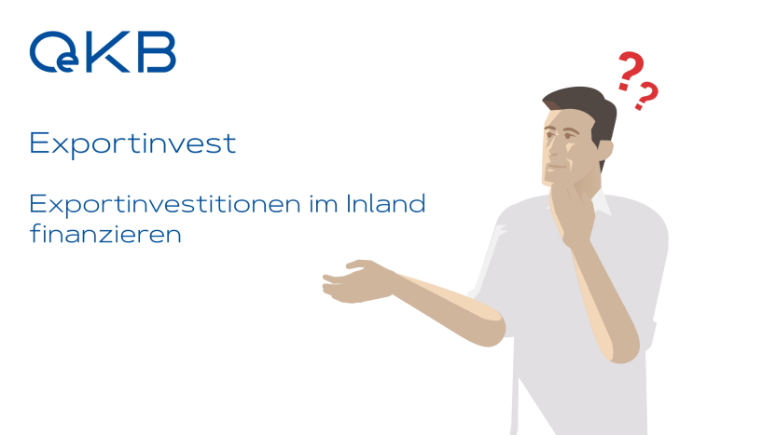 Die Exportinvest ist das richtige Finanzierungsprodukt für österreichische Unternehmen, die eine Neu- oder Ersatzinvestition bzw. ein Immobilien- oder Mobilien-Leasing im Inland planen, um damit ihre Exportgeschäfte zu sichern bzw. auszubauen.
Über ihre Hausbank können Unternehmen die Investitionskosten in Höhe ihrer in 10er-Schritten abgerundeten Exportquote finanzieren.

Exportinvest für den Ausbau Ihrer Exportaktivitäten
Mit der Exportinvest unterstützen wir Sie gemeinsam mit Ihrer Hausbank bei Ihren Investitionsvorhaben im Inland.
Fragen?
Wir beraten Sie gerne.
Client Advisory Export Services