Down-payment financing
When covering credits for the financing of exports, such as supplier or buyer credits with a maturity of over two years granted by an official export credit agency (ECA), a 15% downpayment is required by the OECD framework. Therefore, only 85% of the business can be covered and financed by an export guarantee. Should you, however, be able to have the remaining 15% covered by private credit insurance, this share can also be financed by OeKB and your business fully funded.
Your situation
You are an Austrian exporter who wishes to insure your exports with an export guarantee. Your bank has granted the buyer attractive financing with a buyer credit under OeKB's Export Financing Scheme (EFS).
Since the credit is subject to the provisions of the OECD Arrangement, a downpayment amounting to 15% of the export contract value is required. This cannot be covered by OeKB as an export credit agency, and therefore cannot be financed via the EFS either. Nonetheless, your customer needs a comprehensive solution and, together with the financing bank, is looking for a way to fully finance the project.

Our service: Financing on the basis of a private policy
Since the financing is limited to the amount covered by the export guarantee or insurance, OeKB can also finance downpayments on the basis of private credit insurance. By combining an export guarantee that covers 85% of the contract value with a private insurance that covers the downpayment of 15%, you can finance the entire contract value.
What is important is that the scope of the private credit insurance is comparable to the risk assumed by the export guarantee in accordance with the Export Guarantee Act (EGA). This is why we are obliged to approve insurance conditions and policies beforehand. Ideally, you should already contact us in the preparation phase of your project to enable our experts to support you as much as possible.

Your benefits
If the risk is covered by a private insurer, we can also finance the downpayment.
We offer refinancing to your bank on attractive terms which are also beneficial to your buyer.
Interest rates
We offer very attractive financing conditions through domestic and foreign commercial banks. The interest rates applicable depend on the structure and maturity of the financing required.
Interest rates for single transactions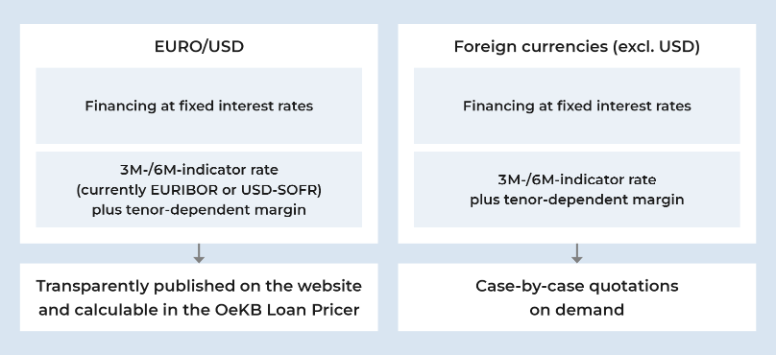 You can find an overview of current interest rates here:
The applicable interest rate is based on the planned duration and structure of the credit disbursements and repayments, and can be calculated simply using the OeKB Loan Pricer on my.oekb.
Premium for private credit insurance
In addition to the total costs for the down-payment financing, you will also be charged an insurance premium by the private credit agency (e.g. ACREDIA Versicherung).
How to get down-payment financing
File an application – ideally online on my.oekb or in writing by mail or email.
We check your application and submit it to the advisory board.
After approval by the advisory board, the Republic of Austria assumes the liability and you receive your export guarantee.
Your partner in all phases of your project
With the export guarantee, you can carry out your export transactions and be well-covered. We are your reliable partner for covering and financing right from the early project phases. Contact us early on so that we can assist you right from the preparatory phase:
Cost estimate for your calculation
Priority notice as a letter of intent
Preliminary commitment as a provisional cover note
Guarantee when concluding the contract

Show more
Cost estimate
You will benefit from talking to us during planning. We can support you with a solid cost estimate for hedging so that you can include insurance costs from the very beginning.
Priority notice
During the bidding phase, we can strengthen your position with a priority notice. With a letter of intent (LOI), we confirm that we can in principle guarantee your project.
Preliminary commitment
As soon as you start negotiating with your business partner and the bank, we can issue you a preliminary commitment. A preliminary commitment has already been approved by the advisory board. This only costs a minimal handling fee.
Export Guarantee
Once the contract is concluded, if the risk exposure remains unchanged, you can quickly transform a preliminary commitment into an effective guarantee without having to wait for the advisory board's evaluation. Keep in mind that it is important that you contact us before any risk arises.
You can apply for and manage export guarantees online using my.oekb. If you already have access to my.oekb, you can simply apply for the online export guarantees service. If you do not have access yet, simply register online here: Online registration Export Services
Contact us
If you require more detailed information or an individual consultation, please do not hesitate to contact us.
Client Advisory Export Services
Your bank as partner
Ask your bank about down-payment financing!
Contact us!
Client Advisory Export Services